Ah, the digital age! In a world where everything is connected, having a reliable Wi-Fi router is as essential as the air we breathe. Imagine streaming your favorite show, and just as the climax approaches, your video buffers.
Frustrating, right? That's why investing in a dependable router is crucial. Enter the ASUS RT-AX86U AX5700 Wi-Fi Router, a device that promises to revolutionize your online experience.
In this review, I'll take you through its features, design, and performance, giving you a comprehensive look at what this unit brings to the table.
Fun Fact: Did you know that Wi-Fi signals are just radio waves? That's right! The same technology that brings music to your car's radio is responsible for streaming cat videos to your phone.
Key Features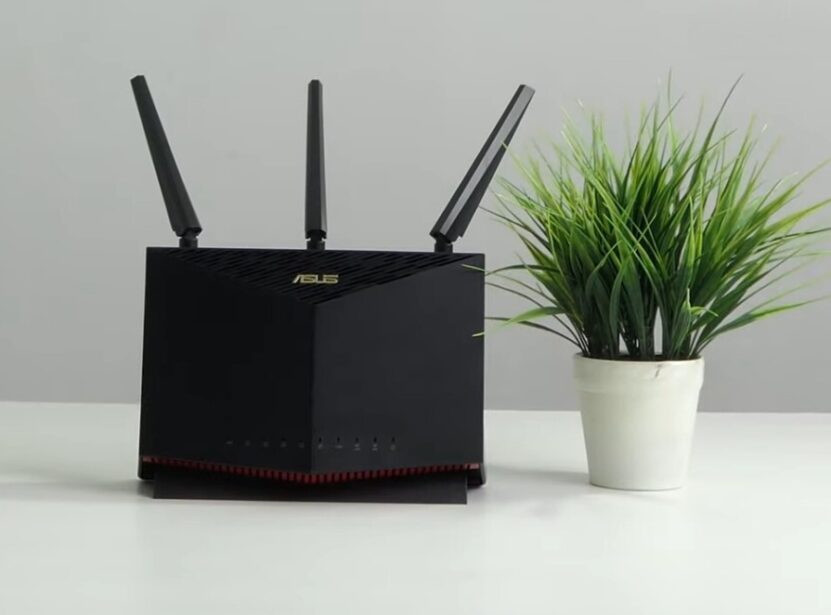 Wi-Fi 6, also known as 802.11ax, is the latest Wi-Fi standard that offers faster speeds, increased efficiency, and better performance in congested areas. With dual-band capabilities, this router can operate on both 2.4GHz and 5GHz frequencies, ensuring a smoother and more stable connection for all your devices.
Fun Fact: Wi-Fi 6 can handle more devices at once, making it perfect for households with multiple internet-connected gadgets.
AX5700 speed rating
This router promises impressive speeds that can handle everything from streaming 4K videos to online gaming without any hiccups. This means faster downloads, smoother streaming, and an overall better online experience.
Pro Tip: Always ensure your devices are Wi-Fi 6 compatible to fully benefit from the router's capabilities.
MU-MIMO and OFDMA
These two technologies are game-changers when it comes to handling multiple devices. MU-MIMO (Multi-User Multiple Input Multiple Output) allows the router to communicate with multiple devices simultaneously, reducing wait times and speeding up connections. OFDMA (Orthogonal Frequency-Division Multiple Access) further enhances this by allowing multiple devices to share a single channel, increasing efficiency.
Fun Fact: OFDMA can allow up to 30 users to share a channel at the same time!
Gaming-specific features
For the gamers out there, the ASUS RT-AX86U AX5700 comes equipped with Game Acceleration and NVIDIA GeForce NOW support. This ensures that your gaming sessions are smooth, with reduced lag and prioritized traffic.
AiProtection Pro
In today's digital age, security is paramount. The AiProtection Pro feature offers advanced security protocols to protect your network from potential threats, ensuring that your personal data remains safe.
Design and Build Quality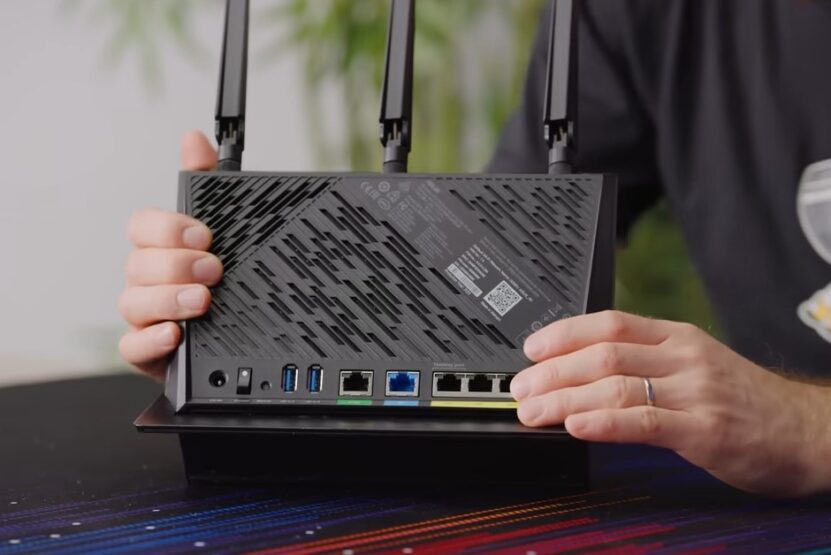 The ASUS RT-AX86U AX5700 boasts a sleek and modern design that will complement any room. Its black finish and angular design give it a futuristic look, making it not just a functional device but also a stylish addition to your home.
Pro Tip: Place your router in a central location and elevated position for optimal signal distribution.
Constructed with high-quality materials, this router is built to last. It feels sturdy and is designed to handle the demands of a busy household, ensuring that you get a reliable connection for years to come.
Performance and Speed Test Results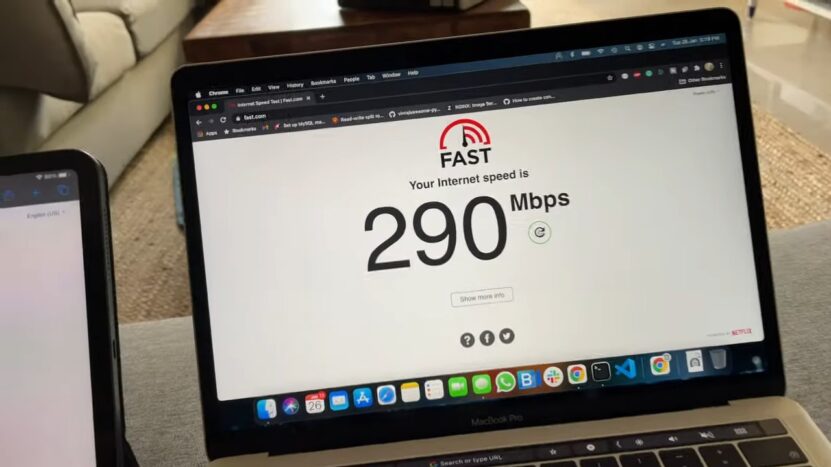 While lab tests can provide theoretical speeds, real-world tests give a clearer picture of how the router performs under typical conditions. In various tests, the ASUS RT-AX86U AX5700 consistently delivered impressive download and upload speeds, living up to its AX5700 rating.
When multiple devices are connected, some routers can struggle to maintain performance. However, thanks to its advanced features like MU-MIMO and OFDMA, this unit excels in handling multiple devices simultaneously, ensuring that each device gets a stable and fast connection.
Fun Fact: The average household has around 10 connected devices, but this number is expected to grow in the coming years. A router like the ASUS RT-AX86U AX5700 is perfect for future-proofing your home network.
User-Friendly Interface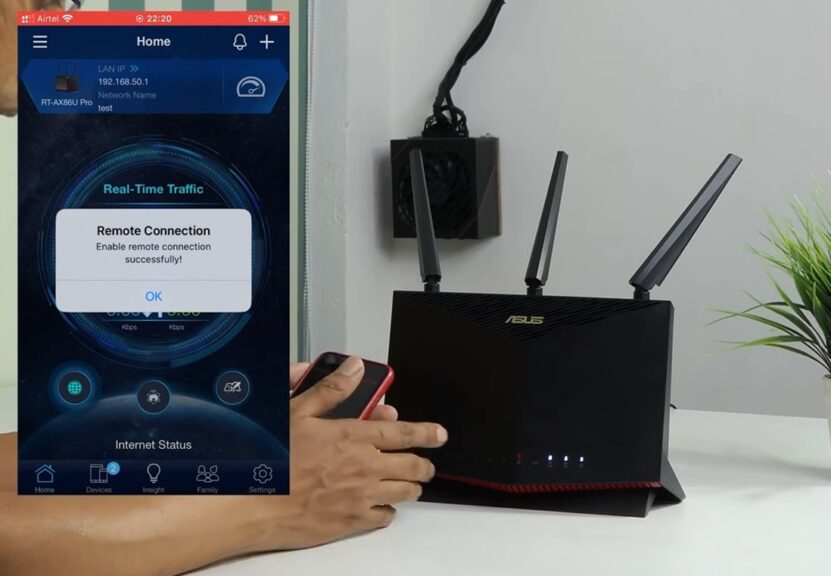 Navigating the ASUSWRT interface is a breeze. It's intuitive, user-friendly, and offers a plethora of customization options. Whether you're a tech-savvy individual or a beginner, the interface ensures that you have full control over your network settings.
Pro Tip: Regularly check for firmware updates to ensure you're getting the best performance and security from your router.
Setup Process
Setting up the ASUS RT-AX86U AX5700 is straightforward. With the ASUS Router app, you can have your router up and running in minutes. The step-by-step guide ensures a hassle-free setup process.
Gaming and Streaming Performance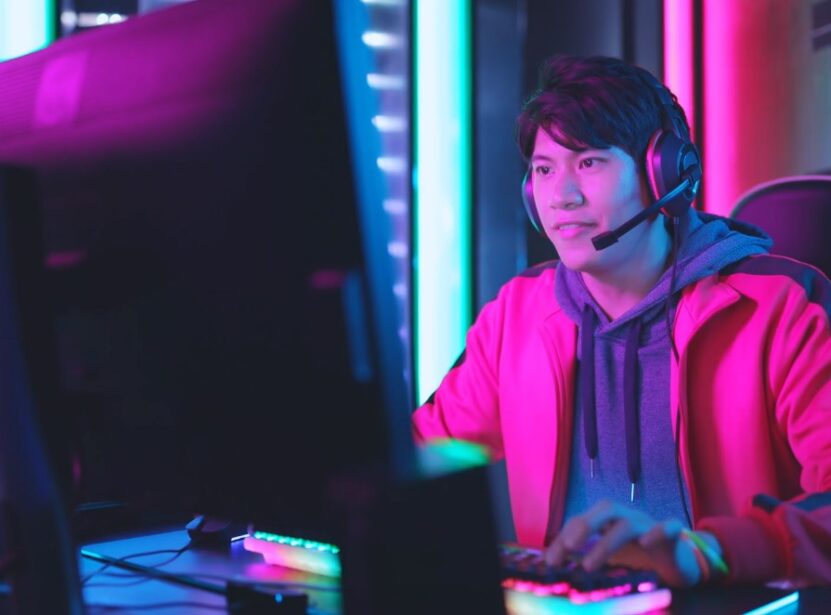 Low latency gaming
Thanks to the Game Acceleration feature, gamers can enjoy a lag-free experience. This technology prioritizes gaming traffic, ensuring that your sessions are smooth and uninterrupted.
Streaming in 4K and beyond
For movie buffs and binge-watchers, the router's performance for media streaming is top-notch. Whether you're streaming in 4K or even higher resolutions, expect seamless playback without buffering.
Fun Fact: Streaming in 4K requires at least 25 Mbps. With the AX5700 speed rating, this router can handle multiple 4K streams simultaneously!
Advanced Features
Quality of Service
With QoS, you can prioritize devices and applications. This means if you're working from home and need a stable connection for video calls, you can ensure your device gets the bandwidth it needs.
Parental controls
The router offers robust parental controls, allowing you to manage and monitor internet usage for your kids. Set time limits, block inappropriate content, and ensure your children have a safe online experience.
Customization options
For those who like to tinker, the router offers advanced settings. Dive deep into the interface and customize your network to your heart's content.
Pros and Cons
Pros
Cons
Ultrafast Wi-Fi 6 speeds up to 5700 Mbps.
Slightly higher price point compared to non-gaming routers.
Advanced gaming features like Game Acceleration.
Might be overkill for smaller households or those with fewer devices.
Robust security with AiProtection Pro.
Seamless mesh networking with AiMesh support.
The ASUS RT-AX86U AX5700 stands out as a top-tier router, especially for gaming enthusiasts. While it offers a plethora of advanced features, its price might be a consideration for some. However, for those seeking a high-performance unit that can handle heavy internet usage, it's a worthy investment.
User Feedback and Ratings
Based on various sources, users have praised the ASUS RT-AX86U AX5700 for its impressive performance, especially in gaming scenarios. The router's range and stability have also been highlighted. However, some users mentioned the price as a potential drawback, given the plethora of features many might not use.
FAQ
What is the coverage range of the router?
Extensive coverage suitable for medium to large homes.
Can I use this router with my existing modem?
Yes, it is compatible with most modems.
Does it support both 2.4GHz and 5GHz bands?
Absolutely! It's a dual-band router.
How does the router prioritize gaming traffic?
Through its Game Acceleration feature, it ensures gaming traffic gets priority.
Is the router compatible with voice assistants like Amazon Alexa or Google Assistant?
Currently, there's no direct integration with voice assistants.
What security features does it offer?
It boasts AiProtection Pro, WPA3 security, and advanced parental controls.
Conclusion
The ASUS RT-AX86U AX5700 Wi-Fi Router is a powerhouse, offering top-tier performance, especially for gamers. Its range of features, combined with its user-friendly interface, makes it a top choice for those looking to upgrade their home network. While the price might be a bit steep for some, the value it offers, especially for heavy internet users, is undeniable.